Get wonderful homemade meals delivered directly to your home. We would request 3 days to prepare and deliver your meals.
10 Meal Package
Order 10 meals for delivery at a flat rate of $150.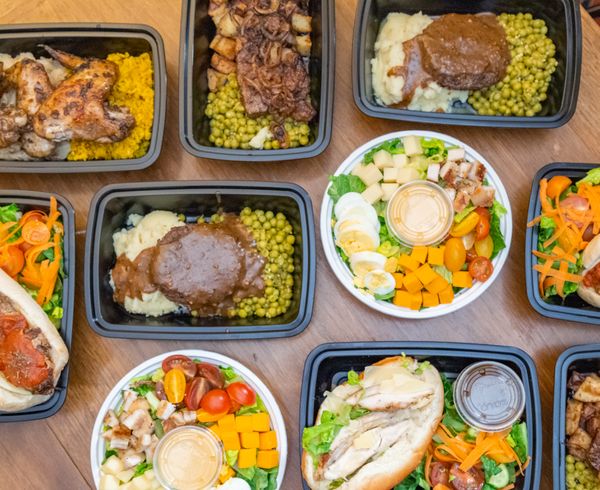 10 Meal Delivery Package
Choose from various client favorites to put together your package
Watermelon-Feta Salad
Diced Watermelon & Feta tossed with Baby Arugula, Red Onions, Fresh Oregano & Nicoise Olives
Endive & Frisee Salad with Blood Oranges
Belgium Endive & Frisee tossed with Shallot, Honey Balsamic Vinaigrette garnished with Blood Orange Segments & Hazelnuts
Gourmet Vegetable Pasta Salad
Cavatappi, roasted peppers, squash, red onion, zucchini, herbs, parmesan, & olive oil
*VG
Israeli Orzo Salad
Cucumbers, tomatoes, red onion, peppers, parsley, mint dressed in a refreshing Dijon vinaigrette
*VG
Tri-Colored Pasta Salad
Tri-Colored Rotini pasta tossed with diced summer garden vegetables, julienne beef salami, crumbled goat cheese and a refreshing balsamic & thyme vinaigrette.
Grilled Portobello Salad
Seasoned Portobello Mushroom, Quartered Plum Tomatoes & Romaine Lettuce with a Herbed Vinaigrette
Petite Caprese Salad
Mixed Greens, fresh grape tomatoes, mozzarella pearls, olive oil, salt, pepper and balsamic vinaigrette
Chopped Salad
Romaine lettuce with bacon, chicken, egg, tomato, Swiss and cheddar cheese with balsamic vinaigrette
Greek Salad
Romaine lettuce with Tomatoes, Kalamata Olives, Cucumbers, Red Onions, Feta cheese with vinaigrette.
*VG
Black Bean & Chorizo Salad.
Fresh grilled chorizo slices with black beans, roasted corn, red onions and diced avocado served with flour tortillas, sour cream on a bed of fresh mesculin
Shrimp Thai Garden Salad.
Mixed Greens, Red Onions, Carrots, Shrimp, Bean Sprouts, Peanuts and Peanut Dressing
Bombay Chicken Salad
Spring Mix Vegetables, Grilled Chicken, Apples, toasted almonds & coconut on a bed of couscous with a chutney vinaigrette
Shredded Pork Tex-Mex Salad.
Slow Braised Pork Shoulder with Black beans, Avocados, Tomatoes, Cheese & Cilantro with a Tex-Mex Dressing on Romaine Lettuce
Beef Tenderloin Salad
Thinly Sliced Beef Tenderloin, Roasted Red Peppers, Sautéed Red Onions & Tomato with a Bleu Cheese Dressing
Sandwiches
All served with a homemade cookie and side salad or chips
Veggie Italian Sandwich
Roasted Red Peppers, Mozzarella, Basil, Tomatoes on Focaccia
*VG
Marinara Meatball Sandwich.
Sweet Homemade Marinara Sauce over Meatballs and Peppers with Melted Provolone Cheese on a Baguette
Portobello & Artichoke Panini.
Sautéed Portobello & Artichokes with garlic and a Fresh Parmesan Thyme Spread on a bed of Fresh Spinach and a Ciabatta Bread
Brie, Pear & Walnut Sandwich.
Sliced Bartlett Pears Layered over Brie smeared Sour Dough Bread topped with Toasted Walnuts
Pastrami Sandwich.
Mustard Beer Simmered Pastrami with Grilled Onions on Rye Bread
Pale Ale Brined Turkey..
Brined Turkey Breast with Provolone, Giardiniera & Roasted Red Pepper Pesto on Sourdough
Parisian Steak and Cheese Croissant Sandwich
Beef Fillet Steak with Brie cheese, Arugula and Roasted Red Peppers on a Fresh Baked Croissant.
Slow Roasted BBQ Pork Sandwich..........$9.75
Dry-Rubbed Roasted Pork Roast with Homemade BBQ sauce with Sautéed Sweet Red Onions on a Kaiser Roll
Lime Shrimp Lettuce Wraps
Marinated Shrimp with grated ginger, red peppers onions and water chestnuts in a Lettuce Wrap
Cesar Chicken Sandwich
Seasoned Grilled Chicken with Romaine Lettuce, Shaved Parmesan Cheese & Homemade Asiago Caesar Dressing on an Herb Focaccia Roll.
Turkey Club Sandwich
Whole Wheat Kaiser Roll with Smoked Turkey, Bacon, Lettuce & Tomato
Roast Beef & Arugula Sandwich
Fresh sliced roast beef & arugula with olive and red pepper relish on a crusty roll
Grilled Vegetable Wrap
Grilled Eggplant, Zucchini, Red Peppers with homemade Hummus Sauce in a Spinach Wrap
Mozzarella & Tomato Sandwich
Fresh Hand Sliced Tomato, Mozzarella & Basil and Pesto Sauce on Fresh Sundried Tomato Focaccia
Philly Cheese-Steak Sandwich
Thinly Sliced Beef on a Italian Bread with Green & Red Peppers, Red Onions and Mushrooms topped with a Provolone Sauce
Buffalo Blue Chicken Wrap
Chicken Breast with a Buffalo-Blue Cheese Sauce & Provolone Cheese
Corned Beef Rueben.
Sliced Corned Beef & Swiss Cheese on thick slices of Rye Bread and a Homemade Russian Dressing & Sauerkraut
Entrees
Wonderful Meals available in Single, Couple and Family Sizes
Grecian Kabobs
Marinated Lamb served with lemon Couscous
Herbed-buttered Seared Scallops
Golden Brown Seared Scallops served on a bed of Orzo Pasta
Rio Eggplant Caponata
Sautéed Eggplant with Tomatoes, Garlic, Capers & Olive
*VG *V
Spicy Ethiopian Red Lentil Stew
Middle Eastern Vegetable Stew
Chicken Parmesan
A flavorful breaded chicken breast baked to a golden brown with melted smoked Parmesan cheese and herbed marinara sauce. Served with fresh garlic bread.
Grilled Chicken Kabobs
Grilled Chicken Cubes with Grape Tomatoes & Cucumbers Served with Pita Bread and Lemon Tahini Dressing
Andouille Sausage Stuffed Chicken Breast
Homemade Chicken Pot Pie
A flavorful marinated Chicken Breasts with Sautéed Vegetables, and Spices topped with Homemade Herbed Crumble Topping
Creole Mustard Chicken
Grilled Chicken Breast with a Creole Mustard Sauce served with Southwestern Rice & Broccoli
Curried Butternut Squash Risotto w/Grilled Pork Loin
Pan Fried Liver & Onions.
Lightly floured Beef Liver pan fried with White Vidalia Onions, Sautéed Spinach & Roasted Potatoes
Turkey Chili
Homemade Turkey Chili with Onions, Sour Cream & Cheese
Shrimp Creole
Served on a bed of White Rice and a Buttermilk Biscuit
*Spicy *Gluten Free
Salmon Croquettes
w/ Steamed Rice and Sautéed Broccoli
Salisbury Steak w/ Mashed Potatoes & Peas
Spaghetti & Meatballs with Garlic Bread
Al Dente cooked Spaghetti with Meatballs and a Meat Sauce with Garlic Bread
turkey or beef meatballs
Fresh Grilled Sea Scallops
with Creamy Polenta & Tomato-Citrus Vinaigrette
Summer Squash & Tomatoes Pasta
Fresh Steamed Bowtie Pasta Topped with Flavorful Summer Squash, Zucchini and Tomatoes with a Basil, Pine Nuts & Olive Oil Drizzle
*VG
Catfish Nuggets.
Coconut Rice with Black Beans
Lemon Pepper Baked Catfish
Jerk Catfish
Regular Fried Catfish
Empandas
Turkey, Beef or Veggie Empanadas served with Spicy dipping sauce & Spanish Rice
Turkey
Beef
Spinach
Chicken Florentine
Sautéed Chicken Breast and Spinach served with Orzo Pasta in a Garlic Parmesan Cream Sauce
Vegetable Ragout with Cheese Polenta & Red Pepper Coulis
Garden Fresh Roasted Vegetables with Parmesan & Goat Cheese Polenta Garnished with Red Pepper Coulis.
*VG
Bistro Beef Tenderloin
With Honey Carrots & Roasted Baby Red Potatoes
Eggplant Parmesan
on a bed of Linguine Buttered Pasta
*VG
Four Cheese & Italian Sausage Lasagna.
Parmesan, Cheddar, Monterey Jack & Provolone Cheeses with a Perfectly Seasoned Italian Sausage Meat Sauce Layered between Lasagna noodles served with a Mixed Green Salad
Chicken Enchiladas with Spanish Rice and Refried Beans
Seasoned Shredded Chicken Wrapped in a Flour Tortilla with a Salsa Verde Sauce, Homemade Spanish Rice and Creamy Refried Beans
White Wine Roasted Chicken.
White wine infused roasted chicken with caramelized garlic smashed red potatoes and creamy parmesan sautéed spinach
Meatloaf
Turkey or Beef Meatloaf w/Mashed Potatoes and Vegetables
Salisbury Steak
Salisbury Steak w/Roasted Sweet Potatoes and Broccoli
Jambalaya
Chicken and Shrimp Jambalaya
*Spicy